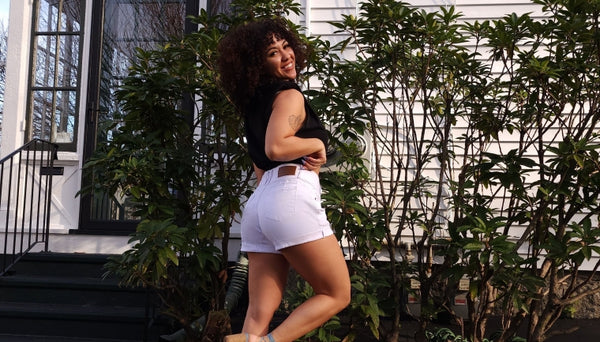 Best 5 mid rise bermuda shorts for women in 2022 from Roswear
I had so much fun compiling my summer dress roundup for you that I decided to compile a list of the best Bermuda shorts for summer as well!
Finding longer, flattering shorts for hot weather can be difficult. 
I recently ordered more than 12 pairs to try...and while some were excellent, others were not.
In this post, I'll only share the best of the best! 
I narrowed it down to my top five favorites, which ranged from a no-stretch, baggy fit to a tighter, biker-short fit. 
I can't wait to show you all of them!
 These are my favorite mid rise butt lifting jeans. Because these shorts have no stretch, I sized up to a size 28. (That's exactly how they're supposed to be!) The distressing, light wash, and looser opening at the leg appeal to me. They aren't quite as long because they have a shorter inseam. You can get the tall size if you want them to be longer. I'm 5'5" and ordered the regular.
These mid rise ripped skinny bermuda shorts are a great straight cut jean short. They're a little tighter at the bottom, and I love the super high rise that hits right at the natural waist. While I dislike the concealed button-fly, I can overlook it because I adore the rest of these shorts! Very comfortable and reasonably priced!
 These mid rise hollow-out ripped Bermuda shorts are a great option if you're looking for a longer Bermuda short! They have a very long inseam (about 11 inches), a lot of stretch, and are extremely comfortable. Because they have so much stretch, I would recommend sizing down.
These appear to be high-quality jeans. They're not as stretchy as some of the others, but that's something I like about them. When you want a more structured denim dressed up with a nicer top, these are it! The raw hemline, the length that hits just above the knee, and the high rise are all appealing to me. 
These are my absolute favorite pink shorts! 
It has a 10.5 inch inseam, which is ideal for those who prefer a longer inseam. 
(Alternatively, you could cuff them to shorten the length.) 
They're made from a stretchy material and are SO incredibly comfortable. 
Madewell knows how to pull it off! 
This summer, I will undoubtedly be living in these shorts. 
I ordered a size 28.
I hope this post helps you in your search for the best Bermuda shorts! I definitely found a few pairs that I'll be wearing all summer. There's something for everyone, whether you're looking for stretchy, longer, shorter, or loose-fit. Have fun shopping!