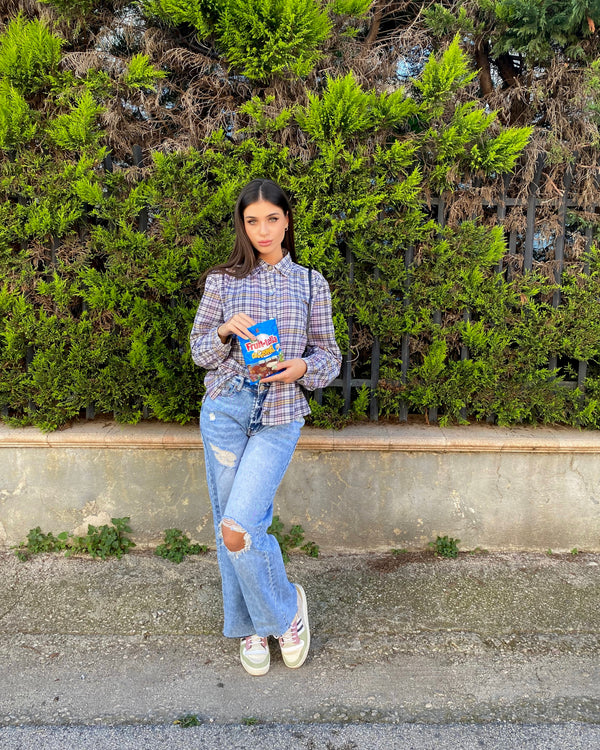 Best 8 women's slim jeans in 2022 from Roswear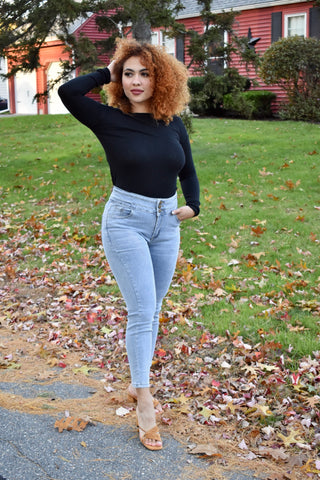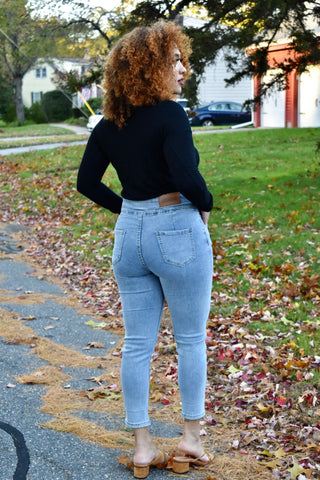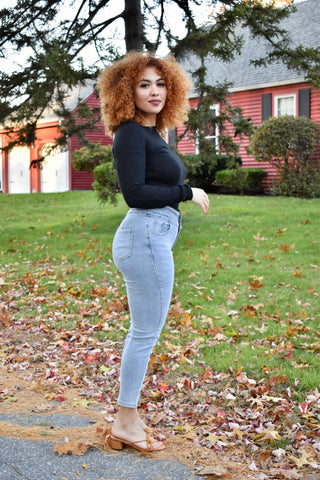 Everybody loves slim jeans as they gently embraces you, hugs you, and highlights your curves, but their hugs are just moderate, not too loose and baggy like wide leg jeans, or too tight like stretchy jeans. They are as comfortable like your pajamas or leggings. For girls who love being casual and comfortable, these slim jeans are worth a try.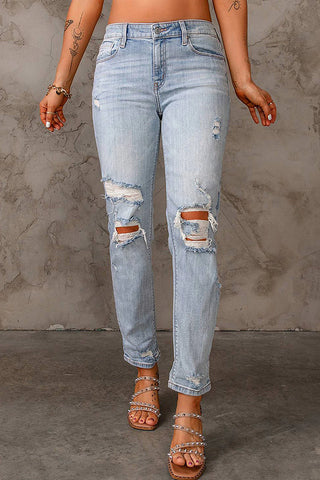 They are eautifully crafted, the perfect balance of comfort and style and they absolutely hug every curve so they definitely flatter your body. I highly highly highly recommend these slim jeans! We've got so many different washes in our shop, but this one offers the most beautiful light sky blue that you will fall in love with. 
Check out the sizing chart to ensure your size. Many say the jeans are not restricting and just the right amount of form fitting. If you have an hourglass shape, (with big hips and small waist), this forces the mid-rise to more of a high rise, but it's not extreme. It surely will be a good buy.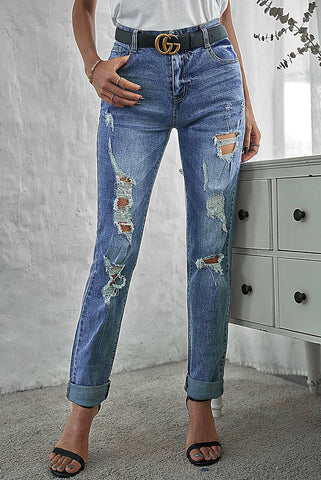 These are my favorite slim jeans that I personally own. I have a hard time finding jeans that are curvy friendly. But eventually I found this! These are perfect! Since they are well cut, they hug the right curves and don't sag in the front or create weird wrinkles. Belts are my favorite accessories, I style these slim jeans with this super cool black belt to make a modern chick look. . For reference I am 5'4" 178lbs and ordered a large(12-14).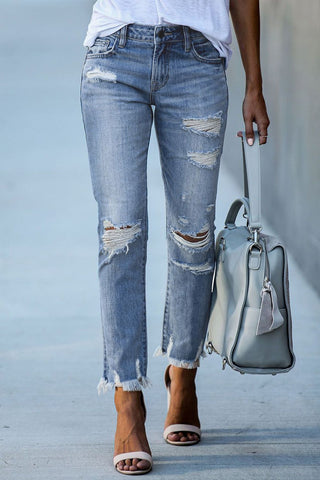 Made with excellent material, the feel is surprisely lovely, soft and it has a good amount of stretch. Simple, but not too simple. To your surprise, they have edgy raw hem design in the ankles to make a casual street style. You won't regret your purchase with this! Pair these super cool slim jeans with your finest handbag or a motorcycle bag and high heels to turn some heads over. 
Despite what the younger generation claims, owning a pair of slim flare jeans in your closet is still worthwhile. They appear painted on because they are so slender. We are assured that while having a bit of elastane that they "flatter every curve," particularly highlighting the backside, they are so second-skin that they are comfortable and cozy. I can confidently state that whoever invented slim flare jeans are a genius. They even made my short legs look toned and longer.
Best 5: MID RISE HOLLOW-OUT RIPPED SLIM JEANS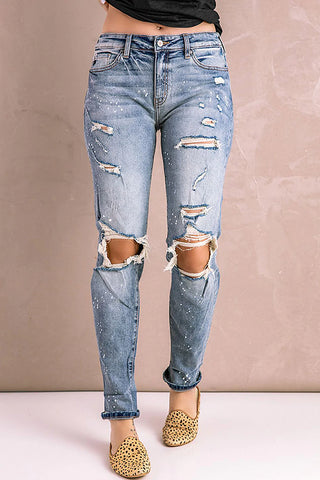 Why do women love slim jeans? Despite the fact that they may be painted on your legs or bum in accordance with your body type, they truly serve a greater purpose and maintain all of our bits and parts looking toned, trim, and extremely fit. Depending on what you desire, bums are tighter, higher, bigger, or smaller; legs are firmer and longer; and (if you choose high-waisted jeans) waists are slimmer and taller. The secret to obtaining a fantastic figure quickly. 
Best 6: HIGH RISE RIPPED ANKLE SLIM JEANS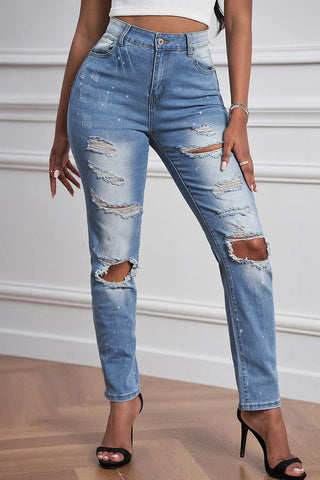 Why are these slim jeans so popular? The first thing about them is their amazing body magic, and the second thing is the fashions they offer: every color, any print, for all occassions, from the office (think black) to events and parties (ripped, sequined, and printed), to everyday casual looks. They go great with practically anything, including elegant stilettos, sneakers, flip-flops, sandals, boots, and ballet pumps. They can change their appearance to fit any style, whether it be grungy, sporty, or extremely refined and glam. And their good quality is constantly saving us from awkward situations. In other words, if you're unsure of what to dress, you always end up wearing your slim jeans and whatever else is appropriate. 
Best 7: MID RISE RIPPED CROP SLIM JEANS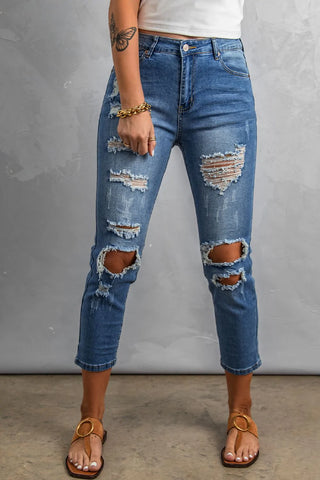 Curvy girls will adore Roswear's affordable slim jeans. They're a dream to wash and wear, and they'll quickly become your new go-to wardrobe staple. They're available in sizes XS through XL. With 1% Spandex and machine wash, they have a little give but keep their shape after many washes and wears. Also, in case you've ever wondered, here's how often you should wash your jeans. 1. Use a gentle or delicate cycle. Denim may appear to be a tough fabric, but that doesn't mean you should wash it on a heavy duty cycle. 2. Wash jeans inside out and on their own. 3. Hang your jeans to dry or use the no-heat cycle.
Best 8: HIGH RISE HOLLOW-OUT RIPPED SLIM JEANS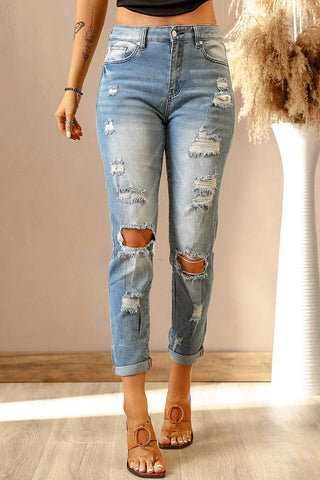 Hollow-out slim jeans, should be a staple in the wardrobe of every naturally curvy woman. "Curvy" isn't just for plus-size women. Because of the slightly roll up opening, they denim provides a subtle balance to a woman's natural shape. They also look great with the best fall sweaters.

With a high waist and shaping panels that subtly sculpt your curves, these stretchy slim jeans streamline your look. They're also available in two washes and sizes ranging from XS to XL. The shapewear panel integrated into the top of these jeans will have you purchasing one of each color available." Think of them as "designer booty sculptors."