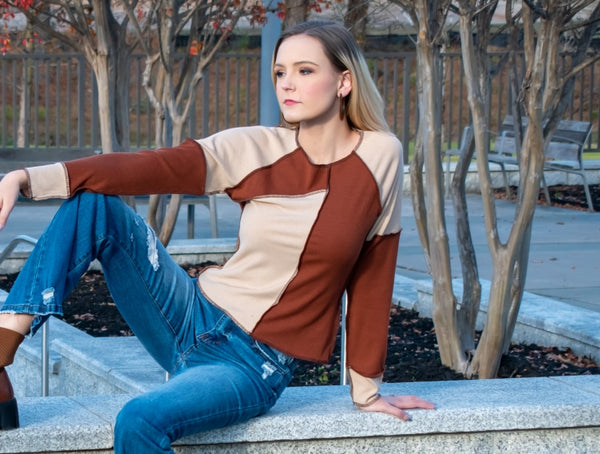 Best 6 splicing sleeve tops for women in 2022
Find your new go-to look with the ease and comfort of the Splice Sleeve Print Top. The relaxed shape and panelled sleeve details of this top keep it perfect for any occasion, all in a soft stretch fabrication. Key features:
Trendy French style with tartan pattern splicing
Fine materials made, the shirt is smooth, soft, and light to wear and touch
Flattering fit design, long sleeve and buttons closure
Spliced elegant tartan turn-down collar and sleeve cuffs
Inject some warm hues into your look with the Splice Sleeve Top. This style features a round neckline, 3/4 length sleeves, and a hip-length hemline in a versatile fit.Key features:
Top for women featuring soft lightweight material with waffle knit texturing
A rounded neckline that can be worn off one shoulder
Long oversized bubble sleeves with fitted cuffs and a large leopard print on the forearm
A relaxed silhouette that falls into a straight hemline that can be knotted
Take a walk on the wild side with the striking leopard print details of the Splice Sleeve Print Top. Adding the fierce factor to this casual black top, you'll love the relaxed fit and 3/4 length panelled sleeves of this soft stretch tee.
Paneled design, ribbed off-the-shoulder neckline and cuffs, hem
Leopard print and colorblocking work perfectly with this knitted sweater
It's soft and warm on cold winter days
Add a pop of colour to your laidback aesthetics wearing our Splice Sleeve Top. This relaxed, soft stretch tunic makes a fashionable and comfortable addition, offering a round neckline, 3/4 length sleeves and a hip-length hemline.
Good fabric of the top can provide you with a wonderful experience<
●The basic design of plus size top is very classic and versatile<
●The two stripes on the sleeves are quite unique and chic<
●Plus size top are easy to pair with jeans, pants, leggings and shorts<
Indulge your easy-going aesthetics wearing the Splice Sleeve Colour Top. Offering a touch of glamour with its gold zebra sleeve print, this style is finished with a round neckline and relaxed silhouette for all-day comfort.
Solid color and animal print splicing they pair so beautifully together
We love the leopard print detail on the sleeves and bodice
This is a standout piece that you'll reach for again and again
Long sleeve tops pair with your fave jeans and booties for a cute casual look
You can find the latest fashion trend easily when Wholesale long sleeve tops on dear-lover
Show off some laidback ease in the camo print design of the Splice Sleeve Print Top. Black sleeve panels mix things up in this relaxed shape, finished in a soft stretch fabrication for total comfort.
Women's pullover is soft to the touch and easy to wear
Sweatshirts for women feature long sleeves, boho print and casual loose style
The boho tribal print splicing with a color block is eye-catching to get compliments
Wholesale sweatshirt in a pullover design with 1/4 zip collar
Besides sweatshirts, you can find jackets, hoodies, coats and so on here