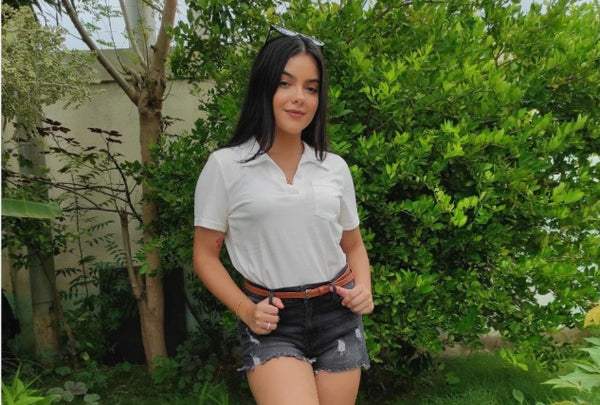 Best 6 Ripped Raw Hem Denim Shorts for Women in 2022 from Roswear
It takes time to find high-quality denim shorts, but once you find them, you'll want to wear them all the time. Few things feel as good to slip into than a comfortable pair on a warm day. We went on a hunt for the perfect denim shorts and discovered a variety of cuts and washes. You'll find it simple to combine these styles with everything you already own. 
If you're going to the beach, a pool party, or a fun day out with friends, you should wear a pair of denim shorts that you feel comfortable and confident in. Whether you dress them up with elevated sandals and a fitted top or down with sneakers and a tee, all of these options are extremely versatile. From ripped denim shorts to black, white, and colorful options, these are the 12 picks you can't miss this summer.
Who wears short shorts? After you add these cuties to your cart, you will. If you're looking for a pair of Daisy Dukes, look no further. This high-waist ripped raw hem denim shorts rides high on the thigh and comes with stylish side slits.
The shredded mid rise ripped raw hem denim shorts gives these waist-hugging light-washed shorts attitude, shares Acopian. They're chic with a vintage vibe and while the price may be on the higher end, the quality is high, too. Pair them with some loafers or your best vintage-y shoes to complete the look.
Grab your best chunky white sneaks because these mom shorts were made for summer. These high-rise dungaree shorts, made of a cotton and spandex blend, will flatter and move with your body all day. They're particularly suitable for hikers and glampers.
These bad boys don't restrict movement like jeggings or denim shorts. These ripped raw hem denim shorts are made of two percent spandex for moderate stretch and eight percent rayon for moisture absorption, allowing for flexibility and cool times—great for a round of Spikeball at a BBQ!
You will not be able to purchase just one of these ripped raw hem denim shorts. There are 4 colors to choose from, including brights like coral, royal blue, and yellow, as well as cool tones like saddle and brick. Choose a lighter hue for day and darker shade for a nighttime look.
These soft and stretchy ripped raw hem denim shorts will not give you the tucked-in, breath-restricting feel that some jeans are known for. "With their frayed hem and light distressing, these stretch denim shorts are designed to fit every body. You can score these shorts in regular and plus sizes—choose from size 00 all the way to size 24!