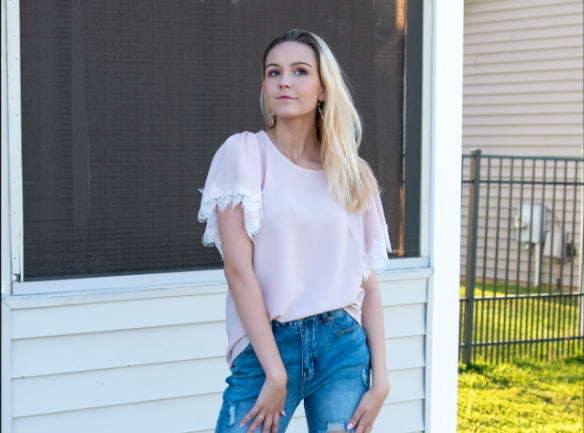 Best 6 Flutter Sleeve Tops for women from Roswear in 2022
For those of you who enjoy experimenting with different outfits and styles. You should have noticed that it is sometimes the small details that distinguish a good looking outfit from a great looking outfit. The flutter sleeve top is an excellent example of this theory. When you add flutter sleeves to a regular top, it instantly becomes more elegant and eye-catching. I've gathered some of the best flutter sleeve top outfit ideas for this blog post, and I'm going to share them with you right now.
Sometimes the fabric makes all the difference. Chiffon is used to make this lovely white flutter sleeve top. If it had been made of cotton, it would have resembled a t-shirt, and the shape of the flutter sleeves would not have been as sharp and clear. Combine the top with white chinos and cheetah pointed toe heels for a unique and stylish business casual look.
Best 2: LACE FLUTTER SLEEVE TOP 
I'm going to start the list with a surprise by showing you this low-key sexy top. It's a sky blue linen flutter sleeve cold shoulder top. The cold shoulder design naturally leads to the flutter sleeve cutting, giving the top a breezy and lovely appearance. To complete this simple and elegant look, pair the top with white skinny jeans and nude sandals.
Best 3: FLUTTER SHOULDER BABYDOLL TOP with skinny demin shorts
This outfit is ideal for shopping or casual outings. It is as comfortable to wear as a typical casual outfit, such as a t-shirt and shorts combo, but this outfit is much more unique and stylish. Wear a blue flutter shoulder babdoll top sleeve blouse with denim and nude sandals to achieve this cool look. Wear a beige felt hat to add an artistic touch to the look.
Best 4: MULTICOLOR PRINT RUFFLE SLEEVE TOP
For those of you who are tired of your usual work outfits, here's an outfit idea you've probably never tried before. To achieve this sophisticated and elegant look, pair a multicolor print ruffle sleeve top with blue jeans and pale pink heels.
If wearing a standard button-up shirt is not required for your workplace, I would recommend wearing a chiffon blouse more often, as it is such a versatile piece that can be styled in a variety of ways. Simply pair this black chiffon flutter sleeve blouse with a pencil skirt and pale pink heels for a fresh and sophisticated look. This particular pencil skirt is a very unique rose gold skirt, which adds a lot of interest to the outfit.
Best 6: SPLIT NECK PLEATED LOOSE TOP with Cuffed Skinny Jeans
This white top and jeans look is a classic and timeless look that is ideal for spring and summer. It's a white flutter sleeve ruffle top with cuffed skinny jeans in this case. Shoes should be white sneakers for a more casual look or brown sandals for a more feminine look.