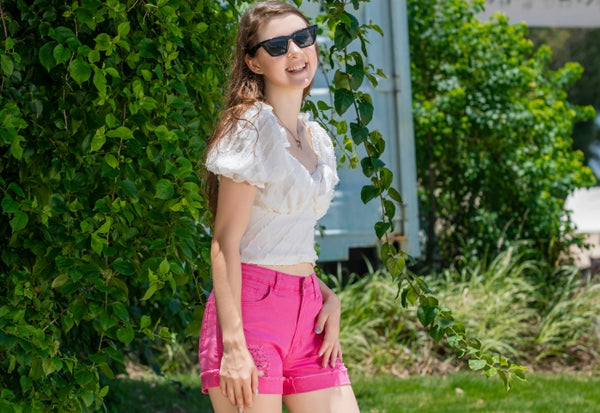 Best 4 pink jeans for women in 2023
Are you tired of wearing the same blacks and blues in jean pants? Why not try out some brand-new, subtle, and ravishing pink jeans? Pink jeans for men and women are the latest market trend. But, you may wonder, are pink jeans as attractive to men as they are to women? Yes, especially if you have a flair for unique fashion and stunning makeovers. Pink provides a subtle sense of a beautiful look with a peaceful and pleasant tone. Pink jeans can be worn by both men and women to draw attention and turn heads. Isn't it thrilling? Today, we have the most recent pink denim jeans variants from around the world. These pink jeans will complement your look and add a pop of color to it. So, let's take a look at them.
What Women Should Wear With Pink Jeans:
Pink jeans come in a variety of colors and designs. Here are some ideas for how to wear pink jeans beautifully.
Women can complement a classic white shirt with dark pink or magenta pink jeans.
You can wear a plain white shirt or one with fancy sleeves.
Alternatively, you can match your top with pink jeans. Pair an off-the-shoulder pink crop top with matching pink jeans, for example.
Experiment with different color combinations by wearing pink jeans with green or black tops.
Wear a pink blazer underneath a blush pink bralette and pink jeans to look like a modern princess.
Wear pink jeans with an intensely designed top or shirt to experiment with the designs.
Here are the 4 beautiful pink shaded jeans enlisted below with images.
High-waisted pink jeans look great on any lady and will draw attention to you. The neon pink on the jeans makes it very eye-catching. To match a beautiful accessory, wear a designer or black belt with neon pink jeans. A tucked-in blouse pairs well with high-waisted pinky jean pants.
Pink is a favorite color of almost all women worldwide. Girls who enjoy a different look with the same jeans can make a spectacular impact with pink jeans and different tops. Women's bermuda jeans can be paired with loose shirts or even skinny t-shirts. You will look fantastic in a white shirt with a long neckpiece and pink jeans. 
Pink zippered jeans are both comfortable and stylish when the skin fits the legs. Pink jeans for women have an impact on both the wearer and the viewers. The figure is appealing due to the light pink color and the comforting stitch. A short blouse looks great with pink zippered jeans.
Any girl would appreciate having a pair of pink capri jeans in her closet. The chic look of the pink Capri jeans with a pair of high heels full covered footwear gives your long legs a stunning appearance.