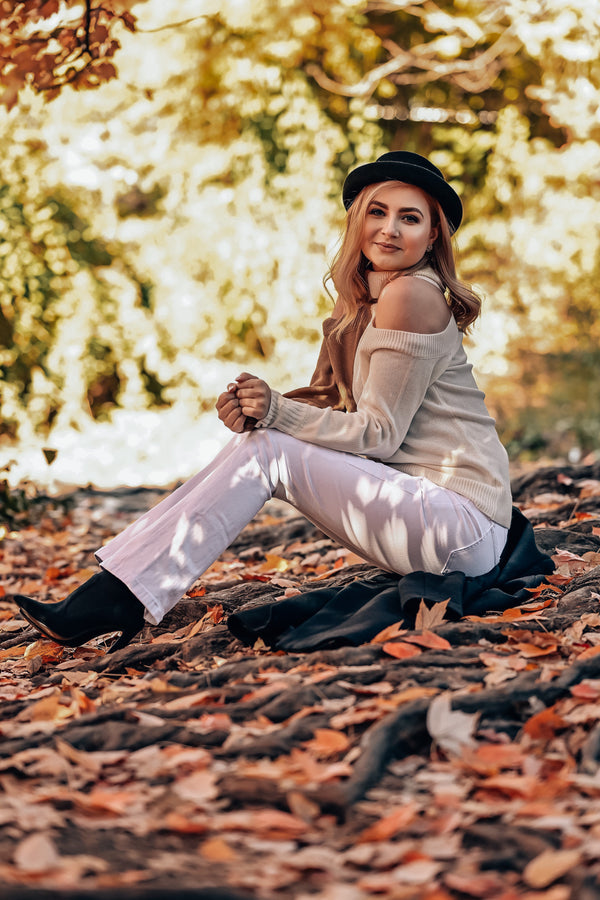 Best 12 Ripped Flare Jeans for women from Roswear in 2022
I'm not one to pass up a good denim trend because I basically live in them. We've already discussed some of the biggest jeans trends this season, from vintage washes to distressed denim, but one of my personal favorites has been the resurgence of '70s silhouettes—flared, bootcut, and wide-leg styles. That's ripped flare jeans. 
1. MID RISE RIPPED FLARE JEANS
The non-skinny ripped flare jean trend has already been spotted on some of our favorite influencers and celebrities on social media. This season's trend is full-length jeans with a trouser-like wide leg and a waist-cinching high rise. There are plenty of cool and modern '70s-inspired iterations on the market right now, such as wider-leg styles and bootcut silhouettes. There's something for everyone's taste and body type.
2. HIGH RISE RIPPED FLARE JEANS
For its modern and cool silhouettes, Roswear has quickly become one of my favorite new denim brands. This pair of ripped flare jeans has a more subtle, less exaggerated flare and a high waistline, resulting in a very flattering and wearable silhouette. They're ideal if you want rigid denim that doesn't feel too stiff. The medium-indigo color is flawless and has a natural vintage appearance. They're a comfortable everyday pair of jeans that I'll be wearing a lot this season.
3. HIGH RISE SPLIT HEM RIPPED FLARE JEANS
These best-selling Roswear's ripped flare jeans are a must-have if you want a wider-leg silhouette. They're popular among fashionistas because of their ultra-high waist and non-stretch denim. They come in a variety of colors, but I especially like this icy ecru shade.
4. HIGH RISE RAW HEM RIPPED FLARE JEANS
These Roswear ripped flare jeans are incredibly soft and comfortable. They have a more defined flare leg that goes well with both pointed-toe boots and sneakers. The faded dark denim has a vintage vibe and can be worn to work or on a night out. On weekends, I've been living in (and loving) these jeans. They have a more relaxed fit through the leg and a subtle bootcut silhouette, which makes them so easy to pair with tees and sneakers. 
5. MID RISE RIPPED SLIM FIT FLARE JEANS
Roswear ripped flare jeans make my legs appear extremely long (major win!) and are made of super-stretchy denim that is incredibly comfortable to wear. The pocket details add a unique touch that makes this pair of jeans stand out from the crowd. If you don't get the hem taken up, I recommend wearing these with heels.
I'm always pleasantly surprised by Roswear's denim selection, and the prices are unbeatable. These stretch-flare jeans have a great fit through the leg. They have a mid-rise fit and aren't too long, making them suitable for both sneakers and low heels.
6. HIGH RISE RIPPED RAW HEMLINE FLARE JEANS
Okay, black skinny jeans, step aside. This season, my wardrobe is dominated by ripped flare jeans. These are insanely comfortable (and great for dancing, FYI), with a high-rise silhouette and exposed buttons. For an evening out, pair with heels and a statement blouse.
I wear its jeans almost every other day, so I was eager to try a new style from the company. This bootcut silhouette is a great way to ease into the '70s trend if you want a less exaggerated flare. I love the easy-to-wear faded wash, and they're super comfy. They're also an excellent choice if you prefer a
7. HIGH RISE RIPPED RAW HEM FLARE JEANS
On the other end of the spectrum, if you prefer a more exaggerated wide leg, these Roswear ripped flare jeans are a great choice. The high-rise, cinched waist, and long-trouser silhouette are flattering on all body types and exude an effortlessly polished look.
8. MID RISE RIPPED BUTTON FLY FLARE JEANS
I have literally waited my entire life to get the adorable super-wide bell ripped flare jeans that you have to alter yourself to fit on some plus-size girl clothes, and I am in love. The high waist gives me a waist where I don't normally have one, and the leg is slim straight down to the knee, rather than starting to flare out much higher like they usually do on bigger girls...or not flaring out at all, just not tapering down. If you're looking for a pair of jeans that will make your SOUL happy, these are it.
9. HIGH RISE ELASTIC RIPPED FLARE JEANS
These are my FAVORITE ripped flared jeans, and I'm surprised they haven't sold out like some of the other popular styles. I'm 5'3" and usually wear a size 25 for a looser fit or a size 24 for a tighter fit. I purchased the 24 in both light and medium washes. I'm completely smitten. The light wash was slightly snugger than the medium wash, but I would not have chosen a different size. They make your butt look amazing, similar to the Levi's wedgie fit. I adore them to pieces. I got the'short' and they fit perfectly. They don't make contact with the ground and land an inch above the heel of my shoe.
10. HIGH RISE TASSEL FRAY HEM RIPPED FLARE JEANS
An extra-long ripped flare jean with a distressed hem that you'll fall head over heels for, like an illicit summertime fling that turns into a love affair that lasts FOREVER because these jeans are THE ONE.I adore them and am overjoyed that I purchased them. They were a perfect fit. 'They remind me of the 1970s,' my husband commented, and I agreed. I adore these and may purchase another pair just in case. Plus, the design and swirling is amazing! Please sell any other colors of swirls you come across, such as red, purple, or green. These jeans are amazing!
11. BLACK FRAYED RIPPED HIGH WAIST FLARE JEANS
Even if you're not in the mood, this vintage-inspired Roswear exaggerated ripped flare jean will make you want to get up and stomp your imaginary boots on the dance floor.These pants are my pride and joy. Pink is a staple color in my wardrobe, so these flares were a must-have. It's extremely comfortable and stretchy.I'm obsessed with these jeans, especially the large bell bottoms! They're my favorite; I have them in a variety of colors and washes and wear them all the time. I always get a lot of compliments when I wear them. The short length is ideal.
12. BLUE FRAYED RIPPED HIGH WAIST FLARE JEANS
If you're looking for the perfect super-flared look, try a Roswear ripped flare jean, because, as they say, the bigger the pants, the bigger the fun. I adore these babies... soft denim and well-made, just like all of my other Roswear jeans. The high rise is ideal. They are my new go-to pants for casual days at work. The flares are too much for me to wear around the house; I only wear them to work or out to dinner. My husband said these are his favorite jeans to see